Blue Business Plus Credit Card from American Express Review
2019.11 – A 15k MR offer is now available via referral (including our link below). The public bonus has been 10k MR or less since mid-2017, so this is a decent bump and a nice way to earn 2x MR on all your purchases up to 50k spent per calendar year. The 15k offer is set to expire on 1/29/2020. 
Application Link
Benefits
15k offer: earn 15,000 Membership Rewards (MR) Points after spending $5,000 within the first 3 months.
Earn 2x MR Points on the first $50,000 in purchases each year, 1x MR Points on purchases thereafter.
We estimate that Membership Rewards (MR) are worth about 1.6 cents/point, see below for a brief introduction. So the 20k highest sign-up bonus is worth about $320!
With this card, you can get access to Amex Offer, which usually offers very good discounts at some stores, such as: spend $15 or more and get $5 back at Walmart; spend $75 or more and get $25 back on Amazon.com.
Refer a friend: You can earn 10,000 MR points for every approved account you refer, up to 55,000 MR points per calendar year.
No annual fee.
0 APR for the first 12 months.
Disadvantages
It has foreign transaction fee, so it's not a good choice outside the US.
Introduction to MR Points
Recommended Application Time
You can only get the welcome bonus once in a lifetime, so be sure to apply when the historical highest offer appears.
AmEx doesn't care about the number of hard pulls.
You can try to apply for it when you have a credit history of 6 months.
Only one AmEx credit card can be approved in a day. This rule does not apply to charge cards, you can be approved for one credit card and multiple charge cards in the day. Multiple cards approved in the same day will only have one Hard Pull.
Only 2 AmEx credit cards can be approved within 90 days, but again, this rule does not apply to charge cards.
You can keep at most 5 AmEx credit cards, not including charge cards.
Summary
This card looks like BCE/BCP, but they are totally different. It has a really strong earning ability: 2x MR everywhere, much better than 2% cash back (see Citi Double Cash). Among all the MR series credit cards, this card has the best earning rate on the "everything" category. Therefore this card is recommended to people with a lot of spending in non bonus categories. Note that the 2x rate is limited to the first 50,000 spending in a calendar year. Unlike the previous discontinued Amex Blue for Business, this card CAN transfer your MR points to airline miles. Although the sign-up bonus is just so-so, but it has no annual fee. It's another MR card that you should considering keeping for the long term.
Related Credit Cards
After Applying
Historical Offers Chart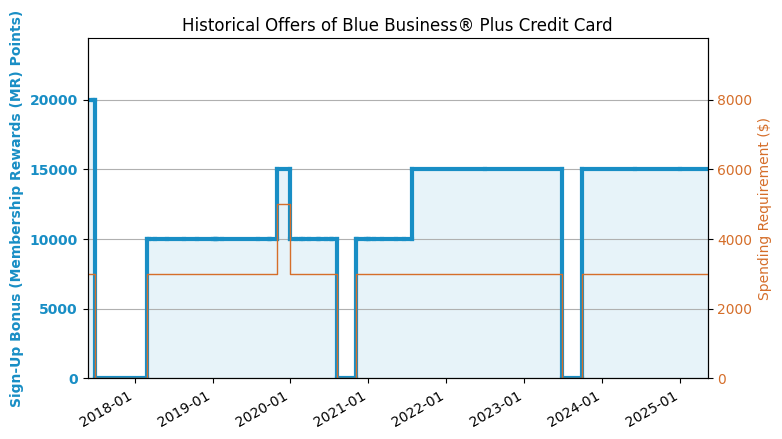 Application Link
---
Share this post with friends
If you like this post, don't forget to give it a 5 star rating!