Wyndham Rewards Visa Signature Card Review
2019.8 Update: The 45k offer is back. Note that the first year annual fee is waived for this offer. HT: reddit.
Application Link
Benefits
45k offer: earn 45,000 Wyndham points after spending $1,000 within the first 90 days. This is the best recent offer.
Wyndham points are valued around 1.0 cents/point (Hotel Points Value), and the redemption structure is very simple with only three tiers of redemption: 7,500/15,000/30,000 points.
Earn 5 points per $1 spent on Wyndham Hotel stays; earn 2 points per $1 spent on eligible gas, utility and grocery store purchases (excluding Target and Walmart); earn 1 point per $1 spent on purchases everywhere else (excluding Wyndham timeshare down payments).
Earn 6,000 bonus points each year.
Automatically receive a . The most interesting benefit is that Wyndham gives you 3000 points each year.
No foreign transaction fee.
Disadvantages
$75 annual fee, waived for the first year.
Typically the free night cannot worth a lot since most Wyndham hotels are not very expensive.
Recommended Application Time
Barclays value the number of recent hard pulls a lot, we recommend you apply when you have less than 6 hard pulls in the past 6 months.
We recommend you apply for this card after you have a credit history of at least one year.
Summary
The 45k sign up bonus is worth a minimum of 3 free nights, which can be decent if you have a good plan. The points earned after paying the annual fee is quite low, so if you don't want to hold it for a long time, you can consider downgrading it to the no annual fee version before the second year annual fee hits.
Related Credit Cards
Recommended Downgrade Options
After Applying
Historical Offers Chart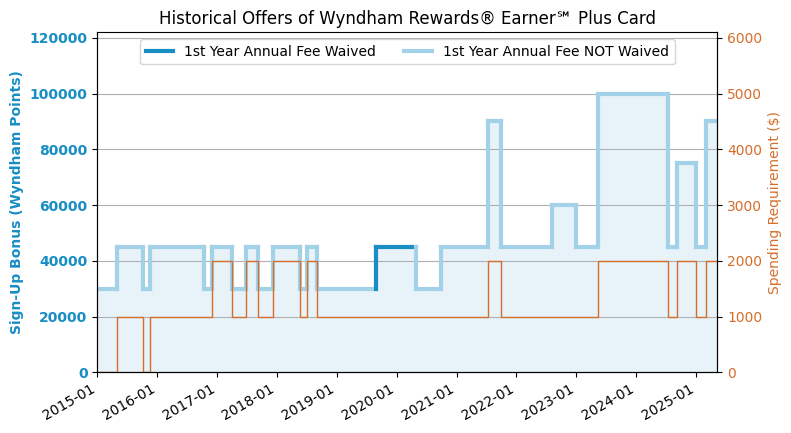 Application Link
---
Share this post with friends
If you like this post, don't forget to give it a 5 star rating!