Blue Cash Preferred Card from American Express (BCP) Review
2019.5 Update: The design of this card is changed, and bonus categories are adjusted today: earn 6% cash back at select U.S. streaming subscriptions (see here for definition); earn 3% cash back on transit (including taxis/rideshare, parking, tolls, trains, buses and more); 3% cash back on select department stores is removed. Generally the adjustment does not have a big impact. It also seems that the $350 offer is dead, and current offer is $300.
2019.2 Update: Now you may see $350 offer via incognito mode. Screenshot.
Application Link
Benefits
$300 offer: earn $300 after spending $1,000 in first 3 months.
Earn 10% back at U.S restaurants within the first 6 months of Card Membership, up to $200. (Expired)
Earn 6% cash back at US supermarkets; 6% cash back at select U.S. streaming subscriptions (see here for definition); 3% cash back at US gas station and on transit (including taxis/rideshare, parking, tolls, trains, buses and more); 1% cash back on other purchases.
With this credit card, you can get access to Amex Offers, which often offers very good discounts at some stores. In the past we have seen offers like: Spend $15 or more and get $5 back at Walmart; Spend $75 or more and get $25 back on Amazon.com.
Refer a friend: You can earn $100 for every approved account you refer, up to $550 per calendar year.
Disadvantages
$95 annual fee, NOT waived for the first year.
Only first $6,000 purchases per Calendar Year at US supermarkets can earn 6% cash back, after that you can only earn 1%.
According to American Express; Target, Walmart, and Costco do not count as supermarkets, and you can only get 1x when shopping there.
This credit card is on the American Express Network, not Visa or MasterCard, so some small stores may not accept it.
The 6%/3% bonus categories are limited within the United States. Well, the Foreign Transaction Fee exists anyway, so better not use it outside the US.
Recommended Application Time
You can only get the welcome bonus once in a lifetime, so be sure to apply when the historical highest offer appears.
AmEx doesn't care about the number of hard pulls.
You can try to apply for it when you have a credit history of 6 months.
You must wait at least 90 days between the application for BCE and BCP, otherwise the application will be cancelled.
Only 2 AmEx credit cards can be approved within 90 days, but this rule does not apply to charge cards. Multiple cards approved in the same day will only have one Hard Pull.
You can keep at most 5 AmEx credit cards, but this rule does not apply to charge cards.
Summary
This is a good grocery card. A simple calculation can show that, even though it has an $95 annual fee, you can get more rewards on groceries than any no annual fee credit cards if you spend more than $300 per month on grocery. So if you spend a lot at supermarkets, this credit card is very worth keeping! One alternative worth mentioning, and especially so if you like MR points and can make 30+ purchase per month, is the AmEx EveryDay Preferred (EDP), see Best Rewards Credit Cards For Grocery for more details.
There's a more savvy way to use this credit card: find Gift Cards for the stores that you visit frequently (such as Shell, Amazon, etc) or Visa Gift Cards in supermarkets, use your Blue Cash Preferred to buy them and you can get 6% cash back (up to $6000 per year)! If you use the card this way, pretty much everything is 5%~6% cash back!
Related Credit Cards
AmEx Blue Cash Preferred (BCP) (this post)
Recommended Downgrade Options
After Applying
Click here to check AmEx application status.
AmEx reconsideration backdoor number: 877-399-3083. The "real" backdoor number of Amex is well protected. Different from Chase, the representatives from this AmEx reconsideration backdoor number only have the right to help you submit requests.
Historical Offers Chart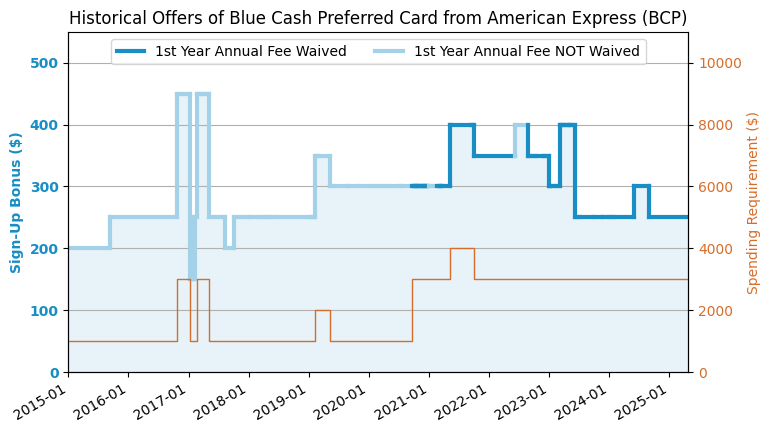 Note: There were $250 + $200 offer in the past. But the $200 part is actually 10% cash back on some category in the first months, and this chart does not include it.
Application Link
---
Share this post with friends
If you like this post, don't forget to give it a 5 star rating!
[Total: 5 Average: 4.6/5]