Chase Sapphire Banking Review
2019.10 Update: The new offer is $1,000!
Application Link
Benefits
New account bonus: $1,000! See below for the requirements to get this bonus. The deadline is 2019.11.19. If you are not a Chase customer, then you can apply directly; if you already have a Chase checking account, you can also get the bonus via upgrading (you need to bring your upgrade code to a branch).
There is a monthly maintenance fee of $25. You can avoid this by following the steps below.
Chase is one of the largest banks in the US, so their branch and ATM network is vast.
No ATM fees worldwide: There is no Chase fee at non-Chase ATMs, Chase will refund ATM fees charged by the ATM owner, and no Foreign Exchange Rate Adjustment Fee.
Invest for free: Free online stock and ETF trades with You Invest by J.P. Morgan.
Earns interest. (The interest rate is so low that you can just ignore it.)
Fee waived for checks (Personal design checks).
Fee waived for counter checks, money orders and cashier's checks.
Monthly service fee waived on any linked personal Chase savings account(s).
Additional linked Chase Checking accounts with no monthly service fee (9 Chase SapphireSM Checking accounts).
Fee waived for stop payments.
Fee waived for incoming wire transfers.
Fee waived for insufficient funds or returned items if you have 4 or fewer occurrences in previous 12 months.
In order to avoid Chase closing your accounts, please make sure never to do the following:

Depositing an enormous amount of cash.
Regular cash deposits.
Depositing money orders.
Large remittances from abroad.

Regular use of the account for direct deposits, cashing checks, transferring between banks in the US is fine. For more details, please see "How to avoid getting your account closed by Chase".
Bonus Requirements
You can only participate in one Sapphire Checking, Chase Private Client Checking or You Invest new money bonus in a 12 month period.
Offer not available to existing Chase Sapphire Banking and Chase Private Client customers.
For 60k UR points bonus: To be eligible for this bonus, customers must have a Chase Sapphire or Chase Freedom credit card that is open and not in default at the time of enrollment and at points fulfillment, and be the primary cardmember on the account. For the $750 cash offer, there's no need to be a Sapphire or Freedom customer.
Within 45 calendar days, transfer a total of $75,000 or more in qualifying new money or securities to a combination of eligible checking, savings and/or brokerage accounts, and maintain that balance for at least 90 days. Stocks that are transferred in also count, so you don't have to transfer in cash.
How to Avoid the Monthly Fee (Meet Any One of the Requirements Below)
Checking + Savings + Brokerage Account monthly average balance at least $75,000. Note that some people find their money in brokerage failed to count, and the reason is the brokerage account was not "linked" to the checking account. I recommend you to call Chase and make sure all your relevant accounts are linked properly.
Related Accounts
Chase Premier Plus Checking
Chase Sapphire Banking (this post)
Here is a comparison and contrast on the official website.
Summary
Actually, this account is just a rebrand of the previous Chase Premier Platinum Checking. Compared to the basic Chase checking account, it just waives some banking fees, yet it has a huge requirement of asset: $75k to waive the monthly fee. On the other hand, online banks such as Ally or Discover waives almost all the fees with no deposit requirement and 0 monthly fee. Therefore, I see no reason to open this account if there is no sign-up bonus.
If you can get a 60k UR welcome offer, then it is definitely worth opening. Note that the interest rate of Chase Savings account is so low, you should not park $75k money there. Instead, you should invest them. If you don't like risk, I recommend to buy a mutual fund called VMMXX: the annual return in a little above 2%, and its risk is so low that can be negligible since it is a money market fund.
Historical Offers Chart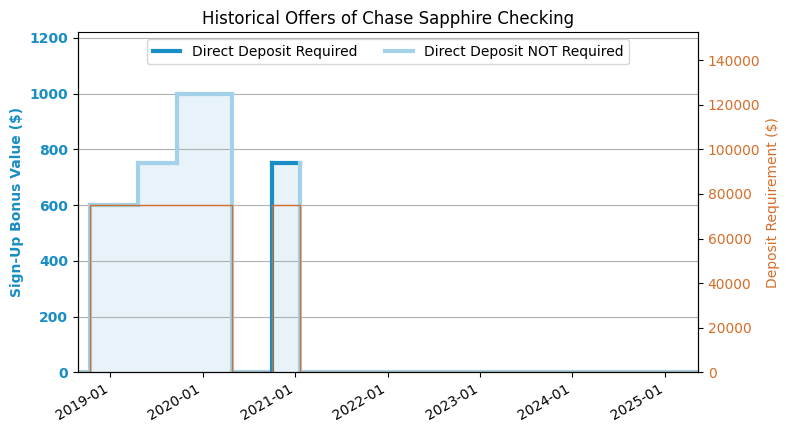 Application Link
---
Share this post with friends
If you like this post, don't forget to give it a 5 star rating!
[Total: 11 Average: 4.8/5]