Chase Savings Account Review
2020.1 Update: There's a new $300 offer. You don't need to open a checking account together, but the deposit requirement is raised from $15k to $25k. HT: DoC. P.S. It seems the $300 checking offer is no longer available.
2019.11 Update: It seems the $300 offer is expired. The current offer is only $225. It is better to wait for the higher offer to appear again.
2019.8 Update: The $300 offer is still alive. HT: DoC.
Application Link
Benefits
New account opening bonus of $300! For details read below. This offer ends on 2020.03.06.
Monthly account maintenance fee of $5. See below on how to avoid paying this ridiculous fee.
If you close your account within 6 months, you'll forfeit the bonus.
Interest rate (APY): a humiliating and laughable rate of 0.01%.
You can transfer out up to six times per month, $5 surcharges thereafter.
Bonus Requirements
This bonus is only available for new clients of Chase Savings Account. Those who are currently using Chase Savings, or those who have closed an account within 90 days are not eligible for the bonus offer. Those with a Chase Checking Account or a Chase credit card are still eligible.
You can receive only one new checking and one new savings account opening related bonus every

two years

from the last enrollment date and only one bonus per account.
You'll have to deposit within 20 business days at least $15,000 of "new money". Your balance needs to stay at $15,000 for at least 90 days. "New money" means the money that does not come from any of your other Chase accounts.
How to Avoid the Monthly Maintenance Fee (Meet Any One of the Requirements Below)
Daily balance of at least $300 in this account.
Have one repeating automatic transfer of $25 or more from your personal Chase checking account.
Account holder is under 18 years of age.
Link any of the listed accounts: Chase Premier Plus Checking, Chase Premier Platinum Checking or Chase Private Client Checking account.
Summary
Let's be honest – the interest rates that Chase is offering through their Savings Account is not desirable. I have no clue why someone would want to open a savings account here. In this instance, you might as well open a Savings Account with Chase for the sake of the bonus, but try not to violate any rules or conditions listed above, since Chase does in fact have pretty awesome credit cards. Just follow their rules, wait the 6 months, collect the bonus and you're free to go up to $300 richer.
Related Accounts
Chase Premier Plus Checking
Chase Savings (this post)
Here is a comparison and contrast on the official website.
Historical Offers Chart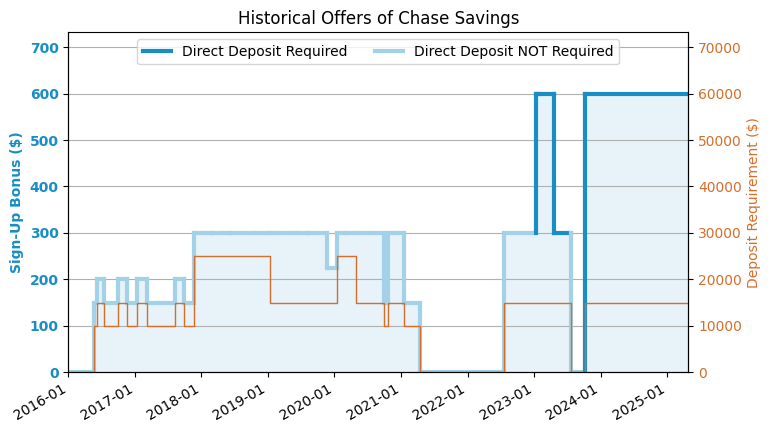 Application Link
---
Share this post with friends
If you like this post, don't forget to give it a 5 star rating!
[Total: 28 Average: 4.4/5]