American Airlines AAdvantage MileUp℠ Card Review
Application Link
Benefits
10k + $50 offer: earn 10,000 AAdvantage Miles and $50 statement credit after spending $500 in first 3 months.
We value AA Miles at 1.6 cents/point (Airline Miles Value), so the 10k+$50 highest sign-up bonus is worth about $210. See A Beginner's Guide to AA Miles to check for details about AA Miles.
Earn 2 AAdvantage miles per $1 spent on eligible American Airlines purchases, 2x miles on grocery stores, 1x mile on all other purchases.
25% savings on eligible in–flight purchases using card.
Disadvantages
Sign-up bonus is not attractive.
It has foreign transaction fee, so it's not a good choice outside the US.
Recommended Application Time
[8/65 Rule] You can apply for at most 1 Citi cards every 8 days, and at most 2 Citi cards every 65 days, no matter approved or not.
American Airlines AAdvantage bonus miles are not available if you have had any Citi AAdvantage MileUp card opened or closed in the past 24 months. Product change is treated as account closure.
Citi values the number of recent hard pulls a lot, we recommend you apply when there's less than 6 hard pulls in the past 6 months.
We recommend you apply for this card after you have a credit history of at least one year.
Summary
The new no AF card could be a good downgrade candidate from other Citi AA cards. 2x miles on grocery purchases is better than nothing. However, considering low bonus offered on this card, we do not recommend signing up for this card, instead you should take higher bonus cards like Citi AAdvantage Platinum.
Related Credit Cards
Citi AAdvantage MileUp (this post)
After Applying
Call 888-201-4523 to check Citi application status.
Citi reconsideration backdoor number: 605-331-1698. This is a so called "Citi EO" (Executive Office) phone number. This phone number is not designed to make reconsiderations, but the representatives are really helpful.
Historical Offers Chart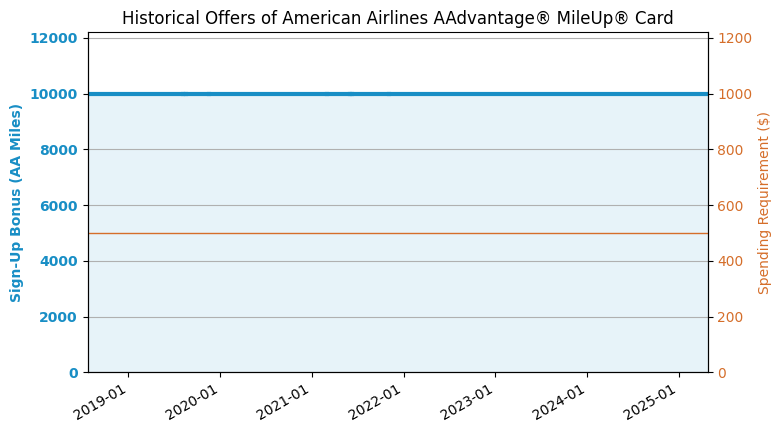 Application Link
---
Share this post with friends
If you like this post, don't forget to give it a 5 star rating!