Citi Rewards+℠ Student Card Review
Application Link
Benefits
2.5k offer: earn 2,500 ThankYou Points after spending $500 in first 3 months. 
We estimate that ThankYou Points (TYP) are worth about 1.6 cents/point, see below for a brief introduction. So the 2.5k sign-up bonus could be worth about $40.
Earn 2x ThankYou Points per $1 spent on dining and gas (for the first $6,000 spending on bonus categories), 1 ThankYou Point per $1 spent on other purchases.
Rounding up: your earnings on all purchases are rounded up to the nearest 10 points. For example, if you earn 4 TYP for a purchase, you will actually earn 10 TYP. With no cap!
10% Points Back for the first 100,000 ThankYou Points you redeem per year. Note that you can not use this card to transfer TYP to airline miles though, so I bet this benefit is not useful for most people.
No annual fee.
Disadvantages
It has foreign transaction fee, so it's not a good choice outside the US.
Because of Citi's 1/24 rule, if you apply for this card, you will lose the chance to get the sign-up bonus for Citi Prestige or Citi Premier in the next 24 months!
Introduction to TYP
Recommended Application Time
[1/24 Rule] Bonus ThankYou Points are not available if you received a new cardmember bonus for Citi Rewards+, Citi ThankYou Preferred, Citi Premier or Citi Prestige, or if you have closed any of these cards, in the past 24 months. Product change is treated as account closure if the account number is changed.
[8/65 Rule] You can apply for at most 1 Citi cards every 8 days, and at most 2 Citi cards every 65 days, no matter approved or not.
Citi values the number of recent hard pulls a lot, we recommend you apply when there's less than 6 hard pulls in the past 6 months.
This is one of the most easiest Citi card to get, but we still recommend you apply for this card after you have a credit history of at least half a year.
Summary
This card is almost identical to Citi Rewards+, the only difference is the sign-up bonus and APRs. I assume this card is also easier to get approved if you are a student because of its name. I do not recommend this card because the sign-up bonus is too low, and it also makes you lose the chance to get the sign-up bonus for Citi Prestige or Citi Premier in the near future.
Related Credit Cards
Historical Offers Chart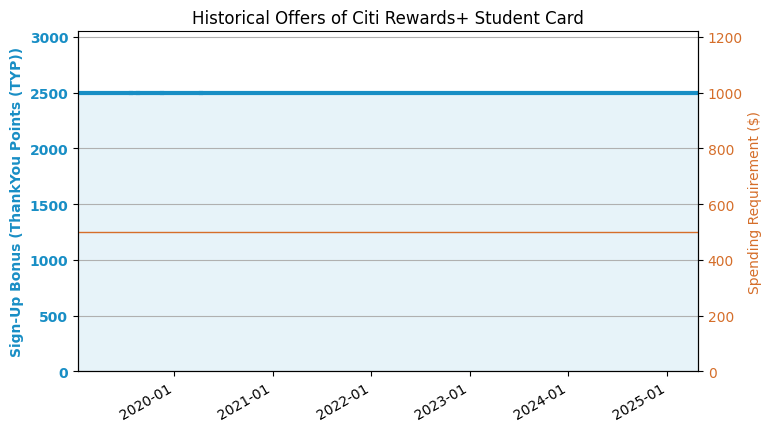 Application Link
---
Share this post with friends
If you like this post, don't forget to give it a 5 star rating!