Citi Premier

℠

 Card Review
2020.1 Update: There is a 65k offer in branch only, and the spending requirement is also $4,000 in 3 months. HT: DoC.
Application Link
Benefits
60k offer: earn 60,000 ThankYou Points (TYP) after spending $4,000 in first 3 months.
We estimate that ThankYou Points (TYP) are worth about 1.6 cents/point, see below for a brief introduction. So the 60k highest sign-up bonus is worth about $960!
If you have this card, you can transfer your TYP to partner airlines miles. Besides, with this card, you can also use your TYP at a fixed rate 1.25 cent/point on both airlines and hotels on thankyou.com. This makes TYP worth at least 1.25 cents/point!
Earn 3 TYP per $1 spent on travel and gas, 2 TYP per $1 spent on dining and entertainment, 1 TYP per $1 spent on other purchases. The definition of travel here is quite broad, which includes parking, tolls, public transportation and many other spendings.
No foreign transaction fee.
Disadvantages
$95 annual fee, NOT waived for the first year.
Introduction to TYP
Recommended Application Time
[1/24 Rule] Bonus ThankYou Points are not available if you received a new cardmember bonus for Citi Rewards+, Citi ThankYou Preferred, Citi Premier or Citi Prestige, or if you have closed any of these cards, in the past 24 months. Product change is treated as account closure if the account number is changed.
[8/65 Rule] You can apply for at most 1 Citi cards every 8 days, and at most 2 Citi cards every 65 days, no matter approved or not.
Citi values the number of recent hard pulls a lot, we recommend you apply when there's less than 6 hard pulls in the past 6 months.
We recommend you apply for this card after you have a credit history of at least one year.
Summary
Because of Citi's new rule, you have to make a choice between this card and Citi Prestige in a time frame of 24 months. Citi Prestige is a better card in almost all aspect, except the sign-up bonus. The sad thing is, the sign-up bonus of Citi Prestige is 0 for quite a while, while the sign-up bonus of this card is really good. So I would recommend to apply for this card first if you want to earn some ThankYou Points.
Related Credit Cards
Recommended Downgrade Options
Historical Offers Chart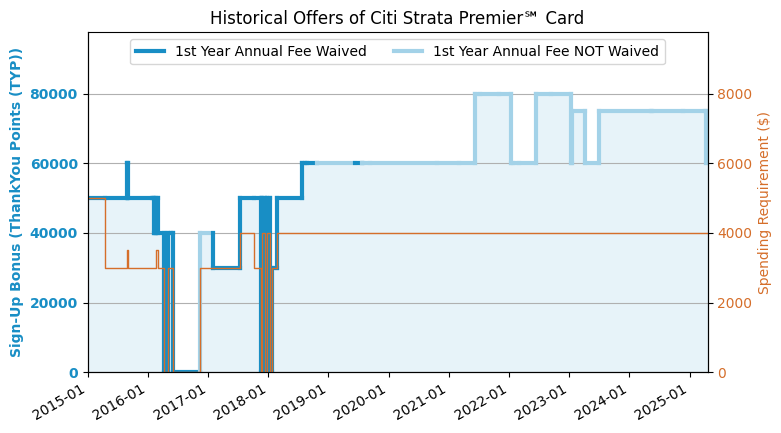 Note 1: The offer before 2015.4 is: earn 20k TYP after spending $2000 in the first 3 months, and another 30k after spending $3000 in the first 3 months of next year.
Note 2: The 60k offer in 2015.9 is a special link, and it probably is a glitch, so we should not expect it to appear again in the near future.
Application Link
---
Share this post with friends
If you like this post, don't forget to give it a 5 star rating!