City National Bank (CNB) Crystal Visa Infinite Credit Card Review
2019.9 Update: The signup bonus has been removed. These is also a rumor this card will loose the $250 airline incidental credit benefit for the authorized users and will replace it with a $350 air incidental credit for the whole account.
2019.8 Update: The 50k signup bonus offer has expired. The current offer is 30k.
Application Link
Benefits
30k offer: earn 30,000 points after spending $3,000 in first 3 months. When the card first came out, the offer was 100k, but people doubt whether we will see such an offer again. No current sign-up bonus.
The points earned by this card can be redeemed for gift cards on airlines and other third party merchants. If you use them to buy Visa Gift Cards, the points are worth about 1 cent/point. When redeeming for airline tickets, the points are worth about 1.2 cents/point. See this post for details.
Earn 3 points per $1 spent on gasoline, grocery, airline, hotel, taxi, limousine, rental car, train bus, restaurant, fast food and takeout food and dining purchases and 1 point per $1 spent on all other purchases.
Receive a statement credit of up to $250 per card per calendar year for Qualifying Airline Purchases (not including airline tickets). For details, please see this thread. Data points show that United Airlines Gift Registry<=$50 per transaction and American Airlines eGift Cards <=$250 per transaction is fine. You can't use the United MPX app to get the airline credit.
Complimentary Priority Pass Select (PPS) card, which gives you free access to the Priority Pass airport lounge network worldwide.
Up to $100 reimbursement for a Global Entry application fee. Note that this card does NOT reimburse the TSA-Pre Check application fee.
This is a Visa Infinite card and therefore comes with all the Visa Infinite benefits. One of the notable benefits is the "Discount Air Benefit," wherein you save $100 on air travel when you use your Crystal Visa Infinite Credit Card to book a qualifying U.S. domestic round-trip coach airline itinerary for 2 to 5 travelers through the Visa Infinite Discount Air Benefit website.
No foreign transaction fee.
No annual fee for authorized users! You can add up to 3 authorized users. The airline credit is unique for each authorized user! Assuming you added all 3 authorized users, and including the main account holder, the annual airline credit limit is $250*4 = $1000!!
Disadvantages
$400 annual fee, NOT waived for the first year.
You can't apply online, you have to go to the branch to apply. The branches are only in the following states: California, Georgia, Nevada, New York and Tennessee. The branch location map is here.
Data points show that you need a $100k+ income for approval of this card. The bank may require you to provide your pay stubs and W-2 Form to prove your income.
The official term says: "The Airline Incidental Fees Statement Credit benefit may be subject to taxation and/or Form 1099 reporting. Taxes, if any, are the responsibility of the Crystal Visa Infinite Credit Cardholder." However, we have not heard of any datapoints where a 1099 was received for these credits.
Recommended Application Time
If you have the requisite $100k income and there's a branch nearby, we highly recommend you apply as soon as possible!
Summary
This is possibly the single best credit card in the history of credit cards when it has the 100k promotional signup bonus! Let's calculate the return you can get on this card,  are assuming you added 3 authorized users. If you close the account before the annual fee posts (2 calendar years), then you can get $1000 sign-up bonus plus $250*4*2 airline credit plus first annual fee waived = $3000 in return! If you want to keep this card, apart from the sign-up bonus, you get $250*4 airline credit minus $400 annual fee = $600/year! And don't forget other benefits such as Priority Pass etc. If you have a high enough income and there's a branch nearby, I strongly recommend you apply as soon as possible!
Recommended Downgrade Options
Historical Offers Chart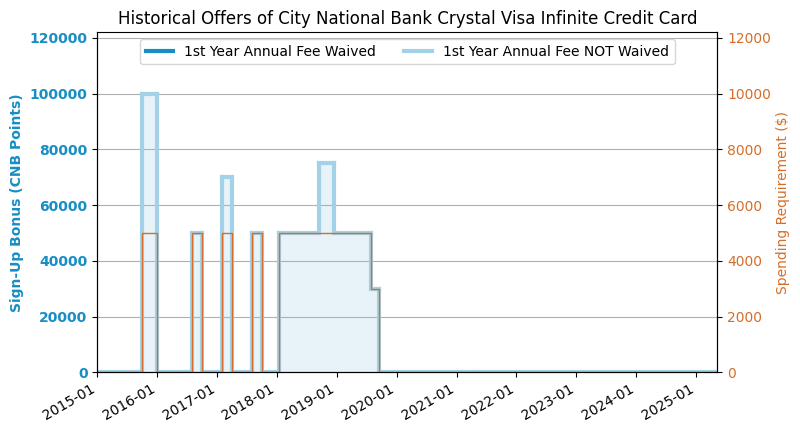 Application Link
---
Share this post with friends
If you like this post, don't forget to give it a 5 star rating!
[Total: 10 Average: 3.5/5]